About Us
Hawaii Foreign-Trade Zone No. 9 (FTZ9) offers cost savings and convenience to Hawaii's international businesses and entrepreneurs. Since 1966, FTZ9 has handled nearly $60 billion of goods. FTZ9 promotes large and small business in Hawaii through tariff savings programs, warehouse services and office facilities, growing an ever increasing international trade community.
As the Foreign-Trade Zone Grantee for Hawaii, FTZ9 oversees duty and tariff deferment programs throughout the state. FTZ9 works on behalf of local General Purpose and Subzones to ensure they operate within US Foreign-Trade Zones Board and US Customs regulations. FTZ9 files all applications to establish new General Purpose or Subzones in Hawaii, and remits concurrences to the US Foreign-Trade Zones Board in Washington DC when any General Purpose zone or Subzone are is altered, activated, deactivated. FTZ9 also submits annual reports to the Foreign-Trade Zones Board for all programs under its grant.
FTZ9 is Hawaii's hub of international trade, providing infrastructure, on-site support services like customs brokers and shipping agents, and other resources such as workshops, seminars, and training, at our Honolulu facility. FTZ9 operates a customs bonded warehouse, the newly renovated Homer A. Maxey International Trade Resource Center and its makai office facilities at 521 Ala Moana Boulevard, across the street from Restaurant Row, on Channel Street, in downtown Honolulu.
FTZ9 is a founding member of the National Association of Foreign-Trade Zones, the NAFTZ.
---
Who Runs FTZ9?
In the State of Hawaii, Foreign-Trade Zone No. 9 was given a grant of authority by the Foreign-Trade Zones Board in Washington DC in 1966 to establish, operate, and maintain FTZs within the state for the purposes of encouraging international business and economic development. FTZ9 is a division of the Department of Business Economic Development and Tourism (DBEDT).
---
What is a Foreign-Trade Zone (FTZ)?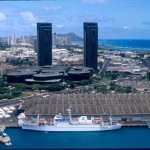 A United States Foreign-Trade Zone is a secure, geographical area authorized by the federal government, where commercial merchandise, both domestic and foreign, receives the same treatment by US Customs as if it were outside the commerce of the United States. Many firms use FTZs to defer the payment of duties and taxes, and in the case of re-export of cargo, avoid the applicable duties and taxes all together as the merchandise was considered to have never entered the US consumption area.
FTZs can be operated by both public and private entities.
Merchandise of every description may be held in FTZs without being subject to Customs duties or other added value taxes. Importers, manufacturers, and distributors can realize cost-savings benefits because normally, when foreign cargo lands on US soil it is subject to clearance through Customs and requires immediate payment of US Customs duties. This tariff and tax relief is designed to lower the costs of US-based businesses engaged in international trade and thereby create and retain the employment and capital investment opportunities that result from those operations.
FTZs operate under the oversight and supervision of US Customs and Border Protection, as part of the United States Homeland Security Council. Even though FTZs are considered to be outside the Customs territory of the United States, they are on US soil. For that reason, goods and activities in FTZs are subject to federal, state and local laws and regulations. Articles prohibited by law are not allowed admission, nor are articles that violate copyright, trademark or patent laws. Animal quarantine restrictions apply as well. As long as the merchandise remains in an FTZ, it is not subject to US Customs laws governing the entry of goods into Customs territory or payment of duty on those goods.
There are two types of FTZs; general purpose zones and special purpose subzones. General purpose zones operate as public utilities providing a variety of services to many users. Special purpose subzones are single-use facilities which cannot be accommodated within the general purpose zone.
---
How We Can Help You
What can FTZ#9 do for you?
FTZ#9 offers savings to manufacturers
FTZ#9 gives peace of mind to importers
FTZ#9 is an import-export, one-stop shop
FTZ#9 provides economical storage at a convenient location
FTZ#9's inventory management enables you to easily meet US Custom's requirements
FTZ9's Homer A. Maxey International Trade Resource Center Conference Room