FTZ9 Locations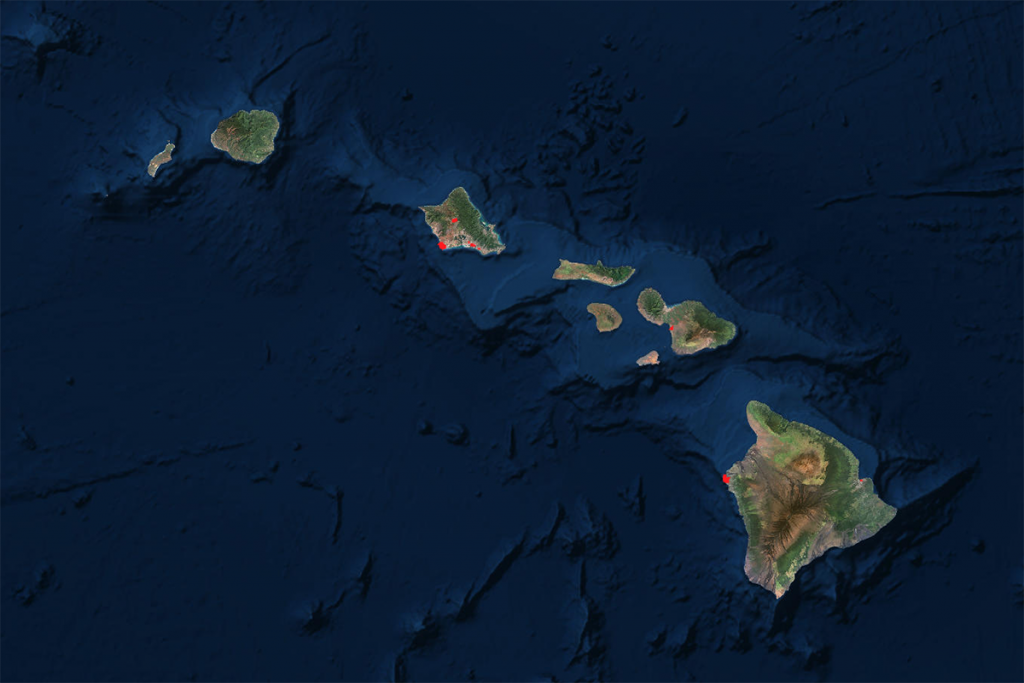 ---
Proposed Hilo Project: Germinate – Tropical AgTech & FoodTech Hub and Demonstration Center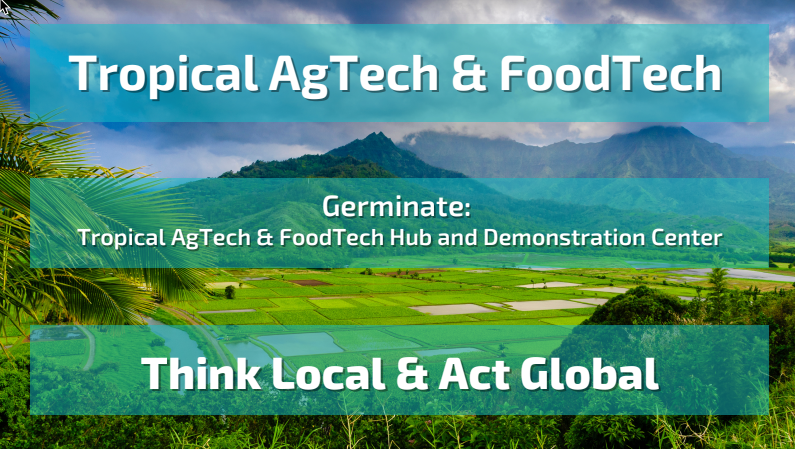 State of Hawaii's Foreign-Trade Zone No. 9 (FTZ9), a division of the Department of Business, Economic Development & Tourism (DBEDT), and Hawaii Island Business Plan Competition (HIplan), a 501c3 entrepreneur-support organization, are working together to develop Germinate: Tropical AgTech & FoodTech Hub and Demonstration Center in Hilo, Hawaii.
The main goals of Germinate are to improve the profitability of small farms in Hawaii, and to increase exports from Hawaii. The program would further DBEDT's and FTZ9's mission to increase international trade, support local companies, grow jobs, and encourage investment. The development delivers flexible office and warehouse space, and greenhouses near the Hilo airport.
DBEDT and FTZ9 are requesting constructing funding from the 2023 Legislature to build the project.
For the State, Germinate is strategic. Hawaii farms would produce more food if it were more profitable, but farmers have difficulty competing with industrial, mainland farm pricing. This project leverages the talent and track record of HIplan's entrepreneurs on Hawaii Island who have demonstrated how to turn science into a successful, agricultural business. They bring expertise and a global network to bear on challenging problems. They have the know-how to develop practical solutions for farmers where they are. Germinate is key to Hawaii becoming competitive, food-secure, and resilient.
Strategic Tropical AgTech and FoodTech Project for Hawaii
Improve small farm competitiveness and profitability
Catalyze science-based solutions for better efficiency, quality and quantity
Share innovations to increase food security and resiliency
Create high paying jobs in rural Hawaii
Keep local talent in Hawaii
Diversify the economy across multiple industries focused on the food system
Create scalable and investable ventures
Export solutions to tropical regions around the world
Jim Wyban, Ph.D., and Jason Ueki of HIplan are leaders in developing the startup ecosystem on Hawaii Island. In June 2022, they convened the inaugural Tropical AgTech Conference, an International Conference for Innovations in Sustainable Tropical Agriculture. The conference focused on developing solutions for smallholder farms in tropical climates around the world. The 2023 Tropical AgTech Conference will be held at the Hawaii Convention Center in Honolulu. In addition, they have hosted business plan competitions, held monthly entrepreneur meet-ups in Hilo and Kona, ran a college hackathon and showcased HIplan competition finalists at a demo day. Jim Wyban commercialized SPF shrimp broodstock and created High Health Aquaculture, Inc. Jim Wyban and Jason Ueki sold the business after SPF shrimp broodstock became the State's largest international agriculture export. SPF shrimp broodstock technology increased annual global shrimp production six-fold.
HIplan aims to establish a Tropical AgTech & FoodTech ecosystem, operate a high-tech greenhouse demonstration facility for public education, and a Tropical AgTech & FoodTech innovation studio to champion and develop local AgTech startups.
Hub Functions to Connect
Building the Tropical AgTech & FoodTech ecosystem will require establishing new connections between multiple communities and at different levels. The hub will function as the connection between the various groups and organizations with the vision of economic development through technology and focused on agriculture and food.
Hub functions to connect:
Biological, digital, and mechanical sciences
R&D and business to commercialize new products, services, and intellectual property
Agricultural and food production, post-production, water, and energy sectors
Public, private, and non-profit sectors
Global AgTech and FoodTech innovation ecosystems and Hawaii
One key to creating the ecosystem is in "seeding" for success.  The Germinate Innovation Studio will work with the existing community to guide and create new ventures in Hawaii via: 
Entrepreneur discovery
Concept generation/refinement
Team building
Global advisory teams
Access to capital/outside assistance
Collaboration with local farmers to understand their challenges and build practical solutions
Role of Demonstration Center
While there are early AgTech adopters in Hawaii, a larger transition to more technical systems will require trust, education, and demonstration. As new producers adopt new technologies, traditional producers are more likely to follow. The demonstration center will provide a working production system to introduce these technologies to build trust, educate the public and increase adoption.
The site will be used to test and validate imported AgTech and FoodTech solutions for application in Hawaii. Most of the current AgTech solutions were developed for large-scale production on the mainland. In particular, there are some solutions from Asia that may help Hawaii.
Demonstrate existing greenhouse technology to the public
Bring in foreign technology for testing (FTZ advantages)
Partner with corporate partners to utilize demonstration space
Partner with academic institutions for R&D
Provide space for startups to develop and test solutions
Hawaii is well positioned to become a global leader in tropical AgTech with a focus on smallholder producers (Strengths):
Abundance of micro-climates
Natural resources within a small geography
Year-round growing season
Existing institutional resources

University of Hawaii System – CTAHR and Community Colleges

Daniel K. Inouye Pacific Basin Agricultural Resource Center (PBARC)

Natural Energy Laboratory of Hawaii Authority (NELHA – HOST Park)

The Whitmore Agricultural Technology Park

Hawaii Pacific University – Oceanic Institute

Only U.S. state in the tropics

Intellectual Property (IP) protection

Availability of capital compared to other tropical locations

U.S. brand strong in validity of research and technology

Existing startup ecosystem is steadily growing
Native knowledge of sustainable practices
Hawaii's agriculture and food security challenges are well documented (Weaknesses):
Hawaii imports more than 85% of food consumed
4 decades of decline in agriculture revenue/production despite an increase in total farms
78% of farms generate less than $25,000 in revenue, meaning not very profitable or sustainable
High cost of operations (land, labor, inputs)
Climate change already disrupting production
Aging and shrinking workforce (average farmer age in the 60s)
Why Hawaii Island (Opportunity):
Hawaii Island has talented entrepreneurs with desire and track record to deliver project
Hawaii Island has the largest amount of agricultural land in the State
Hawaii Island has more than two-thirds of all farms in the State
Greater than 50% of total agriculture production is grown on Hawaii Island
Agriculture is Hawaii Islands' largest cluster according to the JOBSeq platform
Hawaii Island has the largest ALICE population in the State
Hawaii Island has the largest population of non-postsecondary educated people in the State
Hawaii Island has the largest indigenous population in the State
External Challenges (Threats):
The costs and quantity of imports expose Hawaii to food insecurity
Global population expected to rise by 2 billion people by 2050
Over 50% of the global population expected to live in the tropics by 2040

Asia is the fastest-growing region

Asian American demographic is the fastest growing in the USA

Geo-political instability on the rise
Social-economic instability on the rise
Supply chain uncertainties on the rise
Climate Change is disrupting food production around the world

Increasing temperatures will expand the tropical region

Pests/disease will spread to new regions and higher altitudes

U.S. west coast in the middle of historic drought

Great Salt Lake at historic low

Lake Mead at historic low

Colorado River at historic low

Major reservoirs in California at historic lows

Increased frequency and intensification of floods and droughts
Hawaii can help to fill a global void by developing solutions for smallholder operators in the tropics. Local economic development and food security in Hawaii would benefit immensely from the same effort. The urgency to get started is to ensure future generations will have sustainable systems in place for food security in intensifying climate change. The need to improve and innovate agriculture and food production will be ongoing and iterative.
The sixth wave of innovation is transforming industries around the world. The power of the Internet of Things (IoT), Artificial Intelligence (AI), Machine Learning (ML) and autonomous tools (robotics) will do the same in tropical agriculture. These transformations will occur at the intersection of biological, digital, and mechanical sciences together with a proper business model. The leaders of HIplan have a strong track record for success. Germinate will deliver a tech-enabled tropical agriculture and food ecosystem in Hawaii.